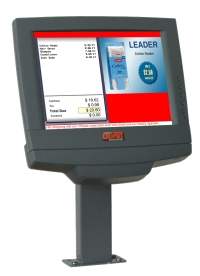 Catapult's Customer Billboard interfaces to Catapult POS and helps retailers drive sales and impulse buying in the checkout lanes. The CID dynamically displays advertising, the customer's live transaction receipt, time and date, discount information, loyalty point information, and scale readout on a secondary LCD screen.
The CID functions even when the terminal is not in POS mode, allowing you to display "Lane Closed" messages or to continue scrolling promotional advertisements. In the best tradition of Catapult, this feature has configurable color and font control.
Simply put, the Catapult Customer Billboard reduces error, provides inexpensive advertising, and improves transaction transparency and customer trust at the point of sale.
Features & Options
Increases transaction transparency
Reduces errors
Improves customer trust
Drives sales in the checkout lanes
Reinforce product promotions
Advertise membership & VIP programs
Announce special events
Improves checkout peak-time efficiency