Multistore POS Data Synchronization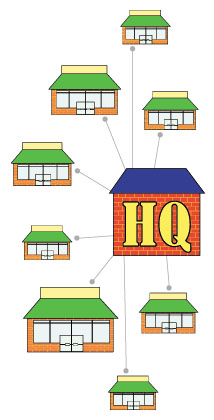 A Formula for Success – Multistore Data Synchronization
Catapult uses proven data synchronization technologies to bring inexpensive and powerful computing resources to all corners of your retail enterprise. The ability to share information effectively among store locations using these new resources has become an important competitive advantage for retail chains. The main benefits of data distribution and synchronization is the increased access to information and reduction of labour to maintain that data – businesses can hold all corporate point of sale (POS) data in a consolidated database at headquarters, while giving remote stores local access to the data they need most through Catapult's security configuration. This local availability increases efficiency for employees. Network access time is reduced when data is local, resulting in faster system response time and decreased connection costs. Instead of having to be continuously connected to the network in order to access data, employees can work in an occasionally connected environment where data is available locally, automatically connecting periodically to synchronize changes between headquarters and the stores.
Centralization & Decentralization
Retailers today want the advantages of control promised by centralization along with the flexibility of response to customers brought by decentralization. They want store managers to take initiative to get results, yet require everyone to march to the same corporate strategy. Catapult allows retailers to find the balance between centralization and decentralization.
Local Security Control
With Catapult Multistore you decide who has access to what. All reports and major functions are controlled through a comprehensive Security Authorization system. Users must have the correct security profile if they want access to specific information, features, or reports.
Remote Store Management
Nearly all store functions can be programmed from headquarters including touch screen and POS configurations. Imagine modifying a touch screen layout or adding a new POS key function from headquarters and having those changes automatically implemented with no intervention at the local store. Promotional pricing can be scheduled to start and end by zone, all the while keeping the remote store management up to date to these pending changes.
Remote Communication Flexibility
Catapult does not require third-party communications or polling software. Designed to take full advantage of the latest Microsoft Windows process scheduling and wide area network (WAN) capability, Catapult allows users to mix and match communications carrier options such as DSL or cable. Catapult is ready to scale, allowing you to simultaneously replicate and synchronize with multiple stores all at once-no communication traffic jams and no excuses. As your needs grow, your Catapult Multistore system is ready to grow with you.
Zone Pricing
Catapult's multistore option allows you to control pricing for each of your stores by grouping like stores into price zone configurations. This allows maximum flexibility while simultaneously reducing management complexity.
Chain Process Control
Catapult's worksheet system really reaches its full potential in a multistore environment. Transferring inventory between HQ and remote stores, and from store to store, is just one of the tasks that can be tightly controlled using this innovative tool. Centralized purchase orders and remote receiving can also be accomplished along with many other management tasks. Best of all, each worksheet provides a comprehensive audit trail by listing the who, what, when and the where of each activity to help resolve issues before they become problems.
Store-to-Store Inventory Check
With just a few simple keystrokes at the point of sale, users can accurately determine if an item is available at other store locations Catapult lets authorized store personnel query any remote store location to check the current on-hand and on-order quantities for any particular item. Catapult provides accurate and precise real time answers – anytime, anywhere.
World-Class Data Integrity
For retail management to provide critical data in a timely manner, all transaction information must be stored as efficiently as possible utilizing a state-of-the-art Database Management System (DBMS). Catapult's DBMS is Sybase iAnywhere, a proven DBMS with over millions of users. Sybase iAnywhere provides Catapult with a fully functional relational DBMS that is efficient, extensive, and reliable. You benefit from true client-server computing with transaction processing and referential integrity that ensures the consistency of your data and provides quick access to all the information your retail operation demands.